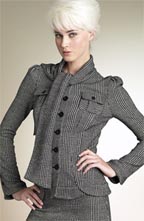 We asked: Are Suits for Work In or Out?
You said:
Long Live Business Formal! 80% of you are behind the workwear staple.
Only 20% (equally divided) think Suits for Work are Out or On the Way
Out.

Omiru's take:
Anything that encourages people to dress up at work puts a smile on our
faces. While we like the freedom of Casual Friday Everyday, we also
appreciate the formality of traditional workwear. Here at Omiru, we're
all about Polished looks, both casual and formal, but wearing a suit to
work makes polish just *that* much easier. To keep the look
up-to-date, look for tailored suits with a unique touch–a special
collar, a beautiful closure, or even a decorative peplum.

Pictured: Diane von Furstenberg "Mele" Knit Jacket | $425 at Nordstrom.
By Omiru, click to leave your comments.
See the Top Ten Summer 2016 Trends for Women Over 40