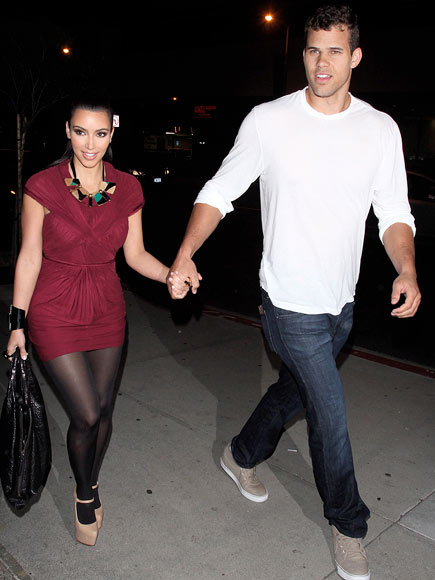 The long awaited day has come and gone. Kim Kardashian is now Mrs. Humphries since her marriage to NBA-player Kris Humphries on August 20, 2011.
While the couple had a whirlwind romance, as soon as we heard Kris had proposed to Kim with a 16.5 carat emerald cut center stone diamond engagement ring from Lorraine Schwartz, flanked by 2-carat trapezoids, we were all waiting with bated breath for the big day to arrive. While E! Entertainment Television had the exclusive, media around the world, even without official pictures, reported on the gala event and all that led up to it. The attention rivaled that of the royal wedding between Kate Middleton and Prince William, and Kim barely had to pay a dime to make it all happen.
With an exclusive taping of the big day set to appear on the E! channel in October, and exclusive photos from People magazine set to come out later this week, the fashion media has mostly had to get their style information from descriptions and not from actual pictures (save for a few cut-off shots like the one above.) Guess this is where our fashion writing prowess kicks in, right?
Well, one thing's for sure, if it was Kim Kardashian getting  married, you know the wedding had to be nothing short of high-end and glamorous. Ironically, the glamour was not in the high-wattage, but in the understated, effervescent beauty of all of her look—paired down makeup, a simple updo, a bejeweled headpiece, a gown that looked and sounded (from descriptions) like it made a statement but didn't overwhelm.)
The wedding had a black and white theme and all 440 guests were required to wear either color.  This included Kim's mom and her sisters, the bridesmaids, who initially said they were wearing green.  (Well, it was Kourtney who said it and we all know now that she was either joking or trying to get the media off her back.)
Guess since the rest of the wedding was mega-watt, it was nice to see that the bride herself didn't go overboard.
Kim wore a custom-made strapless white gown with full tulle skirt and handcrafted Chantilly lace applique on the bodice and train.  The designer she chose was Kardashian family friend Vera Wang, who was seen months earlier with Kim taping for the Keeping Up With The Kardashians reality show.
It was obvious by then that Vera Wang would be chosen to design the dress.  Later, Kim took a long flight to New York from LA for a short fitting with the designer, that lasted only a couple hours.
Though it was originally reported that Kim would wear Christian Louboutins on her feet, she chose Guiseppe Zanotti for footwear.
Kris looked dapper in his white peak lapel tuxedo jacket, black tuxedo pants with white tuxedo shirt and white bow tie by Ermenegildo Zegna. It was reported that Kris was nervous before the festivities.  I mean, wouldn't you be if you were marrying one of the most sought-after women in the world?
Wedding rings also came from Kim's favorite jeweler, Lorraine Schwartz.
Kim planned two more changes for the party afterwards.  They were both Vera Wang dresses in ivory.  The first was a Georgette mermaid gown with hand-pieced Chantilly lace and a skirt with hand-cut organza petals mixed with Chantilly lace motifs and organza sprig embroidery.  She also carried a Judith Leiber clutch.
The other dress was bias-cut crepe back satin gown with V-neck and circle skirt.   Sounds gorgeous but you'll have to see for yourself!
The event would not be anything if it wasn't star-studded.  Of the 440 guests in attendance, the big names were singers Babyface, Robin Thicke, Avril Lavigne, Ciara, Melanie Brown, tv stars Mario Lopez, Mark Ballas, Eva Longoria (w/ beau Eduardo Cruz), Ryan Seacrest, Julianne Hough, Maria Menounos, Kathie Lee Gifford, Alan Thicke, Brody Jenner, and other stars like Sugar Ray Leonard, Carmelo Anthony, Serena Williams, Brittny Gastineau, Greta Van Susteren, Lala Vasquez, Jillian Barberie, Scottie and Larsa Pippen, and the Lohans: Dina, Ali and Lindsay included.
Lindsay Lohan
Lindsay Lohan stuck to the theme with a pretty white gown, that was, of course, way too low cut! And what's up with the bleached blonde locks? Here's another little twist. Did you know that Lindsay wore the same exact Temperley dress as Pippa Middleton wore for the royal wedding's evening reception.  Pippa's was a much pretty color, though and it popped against her tan skin.  She also didn't make the dress look like it was coming undone at the bust the way Lindsay did.  Another twist? The Temperley team insisted the dress wasn't a gift from them (they would never do that!) and Lindsay must have bought it at their LA store.  Which makes us wonder if Lindsay was trying to take the spotlight away from Kim by going for the "Pippa Middleton look."
Other guests:
Mario Lopez with partner Courtney
Mel B with husband Stephen Belafonte.
But of course, the REAL scene stealer that night was neither Kim nor Kris Jenner nor Kris Humphries.
It was…
The ring bearer! Kourtney and Scott's adorable son Mason!
Photos: Stylebistro, Dailymail.co.uk, Just Jared, People.com, E! Online, Fashionista
—Simona Kogan
See the Top Ten Summer 2016 Trends for Women Over 40
Tags: Ermenegildo Zegna, Guiseppe Zanotti shoes, Kim Kardashian, Kim Kardashian engagement ring, Kim Kardashian Vera Wang wedding dress, Kris Humphries, Lorraine Schwartz