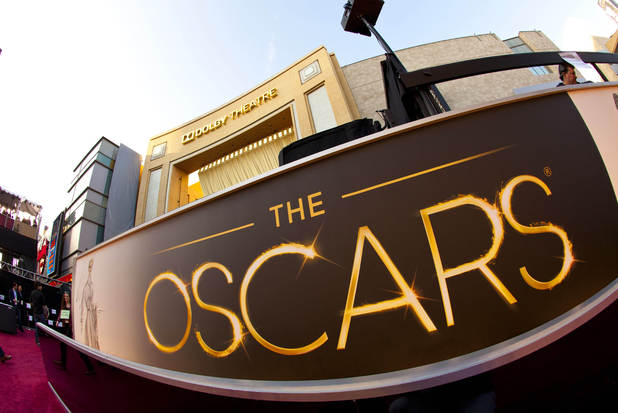 The 85th Annual Academy Awards didn't go without its surprises — Jennifer Lawrence's dramatic fall, Seth MacFarlane's controversial jokes, and Daniel Day-Lewis's third win for Best Actor, making him the only man to have won 3 Oscars for Best Actor.  Then, of course, there was the Best Picture win for Ben Affleck and George Clooney's Argo, basically shunning the naysayers who were happy about his Best Director snub.  (We're still scratching our heads about that one.)
As for the red carpet style of the evening, we're still wondering why there weren't more trends on the red carpet. Sure, there were a couple of red numbers, a couple of metallics, and of course, jewelry was always a statement, but it was the lack of trend on the red carpet that caught my attention this year. In other words, the woman were more apropos to looking like individuals in stand-alone gowns that made statements in their own right. Let's see what I mean.
Stand-Alone Stunners
There was, of course, the stunning Dior Haute Couture gown worn by Jennifer Lawrence, which many predicted she would wear (and she did!). The gown fit her perfectly and the addition of the backwards necklace gave way to a new trend not yet seen anywhere else in recent memory. By the way, when Jennifer Lawrence fell, while going up to receive her Best Actress award, she didn't fall hard and scrape her knee. It looked like she fell gracefully. If I were to fall at an event, I'd want to fall like Jennifer.
Perhaps Raf Simons is the overall winner for awards season. Just about every gown he has put on a celebrity has looked fantastic– even the risk-taking ones. Charlize Theron always pulls of a Dior gown so well — even when it's in white!
I remember first looking at this picture and thinking, wow, Reese Witherspoon looks exactly the same as she did when she won that Best Actress award for her role as June Carter Cash in 'Walk the Line'. Since then, she's gotten divorced, raised two kids, gotten remarried, and had another child. And she hasn't aged a bit! This color is gorgeous on her, by the way.
The cutest little fashionista at the Oscars…
Am I the only one who absolutely LOVES Olivia Munn's fiery Marchesa number with gold embroidery? The color and the baroque print were passionate, but the dress still fit well and looked sweet.
Not sure we're cool with the bright blue heels, but the rest of Jennifer Hudson's sparkly printed Roberto Cavalli number is divine!
Critics raved about Jennifer Aniston's Valentino gown, especially because it was in red and she's so prone to wearing white. Also, it flowed at the bottom, rather than slinking down in a form fitting formation as typically befits a Jennifer Aniston gown. Which begs the question — is Jennifer Aniston hiding a baby bump?
Kerry Washington can never seem to go wrong these days. She sticks to her style and it works for her. Usually it means a simple gown with one key feature, either a sheer keyhole or an embellishment with the rest of the gown in a bold hue. She wins again with this Miu Miu coral number with bow detail. Love the way her lips match her dress!
Amy Adams loves to play up the ball gown ruffles and feathers and so this Oscar de la Renta gown is no surprise for me, despite this washed gray color. (And I've just been told its actually powdery blue.) She didn't go for a necklace like some of the other girls and it works here because the feathered tulle speaks for itself.
When I first saw this gown on Jessica Chastain, I thought…oh no, Jessica, brown? You went with brown? With a second look, I noticed it was actually a rose gold. Jessica Chastain said she wanted to recapture old Hollywood glamour with this for- fitting ensemble. Did she do it? I'm not so sure. But the gown fit her well, had a glorious shimmer in all the right places, and didn't look washed out like some of the other gowns I've seen. So it works for me.
Best Supporting Actress Nominee Sally Field pulled off this striking long-sleeved red Valentino couture gown from Fall 2012. This dress has a lot of contradictions about it, but that only makes it all the more striking. It's pleated and sheer in a bold red tone, but with long sleeves! It seems fiery and passionate and youthful, but also age appropriate. How is that possible? Sally Field pulls it off!
Chinese actress Fan Bingbing isn't known for her Academy Award nominations, but she is certainly known for her amazing style. This fuchsia Marchesa gown is GORGEOUS on her!! No stranger to couture, she knows how to wear it well. Another woman we're surprised pulled of a bright color so well — Jane Fonda in neon yellow. This woman is in tip-top shape and it shows. Not many 70-something year olds can wear a statement making gown like this but Jane Fonda outshines them all.
 The "Iffy" Category
We know everyone who attends the Oscars in a couture gown wants a spot on the best dressed list, but I'm really thinking there should be a place for the "Inbetweeners." For this category, we'd question the "iffy" gowns — the ones that we sort of love and sort of hate — at the same time.  These are the gowns that we think we could love for an innate quirkiness or something special, but we're still not sure if these risk-taking ensembles should go rewarded. In any case, we'll reward them for making their mark this time, in the "iffy" category."
The embroidery was gorgeous but the keyhole bodice was ill-fitting up top. Kudos to Amanda Seyfried, for going for something different and (almost) succeeding.
Too shiny and black and gold for my taste, but leave it to Nicole Kidman to make a daring L'Wren Scott number look good! Kidman has always been one to take risks on the Oscars red carpet and usually, they succeed. As of late, however, I beg to differ. Not sure I like the decorated element on her chest and at the hem, but other fashion critics seemed to go for it. Therefore, it's one of those inbetweeners that can be bad or good depending on how you look at it.
How much embellishment is too much? Did Catherine Zeta-Jones even ask this question when she picked this Zuhair Murad gown for the Oscars? And how come such an ornate gown didn't do her any favors the way it did for Nicole Kidman? Perhaps it was the overall gold, rather than the mix and match of black and gold. This gown was just a little too shiny for me — but leave to Catherine Zeta-Jones to ooze sex appeal and elegance simultaneously.
This bold, metallic gown could have been a fashion no-no but somehow, Naomi Watts top-notch physique and bold blonde hair make it work.  Naomi Watts is a versatile actress who can wear sequins or a ball gown so the fact that we could see her in either makes it easy for us to picture her in something like this. Also, kudos to Giorgio Armani for making this gown fit perfectly. It could have been a disaster and on Watts it looks gorgeous.
At first sight, I liked this Halle Berry look.  It stood out from the rest of the red carpet gowns and had sharp shoulders which are totally on trend. With a closer look, I realized it wasn't exactly fitted properly, the sharp shoulders added a boxy element on a beautiful feminine form, and the stripes were a little too much for the eye. And so I"m not exactly sure just how I feel about this Halle Berry Versace dress.
Sandra Bullock glammed up for the Oscars in her return to the red carpet, choosing beaded Elie Saab for the occasion. The black color of the gown wasn't my ideal for an awards show where even was beaming in brights, but Bullock did look spectacular.
Reem Acra was a surprise choice for Kristen Stewart, who showed up on the red carpet with crutches, but the gown seemed fitting for the actress, despite its more feminine side. We're used to seeing her in edgier garments, but this one worked for her. Still, I'm not sure how I feel about it exactly.  It was a bit washed out, but unique and intricate.
Another surprise choice for this actress — her Alexis Mabille couture creation with belt. Floral appliques around the bodice and a layered skirt added to the unique factor and somehow Zoe Saldana pulled off the entire look so easily. We're not so sure another actress could do the same.
Kudos to Samantha Barks on her first stylish appearance on the Oscars red carpet. The Les Miserables actress went for something simple, but chic and the plunging neckline didn't seem overbearing or overdone. Perhaps I wished for something a tad more couture, but alas, Valentino can do simple and elegant as well as fiery and fierce.
There were many actresses on the red carpet in Valentino. Alas, Anne Hathaway wasn't one of them. Apparently the Valentino team sent out a press release saying that Hathaway was going to be wearing one of their creations — and then she shows up in Prada, a dress she personally says she picked about 3 hours before the Oscars. What a bad choice she made! While she says this dress "spoke to her" it's speaking to us too and it's saying, "Your style has gone down since you cut your hair." I'm not sure if it has anything to do with her hair, but have you noticed that Hathaway has opted for edgier style since she chopped her mane? Perhaps she's trying to get rid of her good girl image in favor of some street cred but the dominatrix factor didn't work on her at her movie premiere and the washed out pink with nipples showing through the dress certainly doesn't work for her here. I hate everything about this dress, but some fashion critics were lenient towards it — perhaps because she was up for a Supporting Actress Oscar? (She won, as EVERYONE predicted.) Incidentally, she didn't win in the fashion department, despite wearing Prada and a backwards necklace like Jennifer Lawrence.
 Best Dressed Couples
I had to create a special section for these best dressed couples. The women looked even better with their dapper men by their side. Jenna Dewan-Tatum was a stunning pregnant woman in her black lace Rachel Roy (one of the best dressed pregnant women I've ever seen at the Oscars!) while Jennifer Garner picked a gorgeous Gucci color for her ensemble and still let her husband Ben Affleck have his moment (his movie won Best Picture!). Stacey Keibler looked great in Naeem Khan (although she looked a little too sweet for the edgy metallic gown) and Salma Hayek's ornate high neckline was just right for her petite physique. Which couple was dressed best?
Photos: People.com, Popsugar, Instyle, Just Jared
— Simona Kogan
See the Top Ten Summer 2016 Trends for Women Over 40
Tags: Celebrity Style On The Red Carpet, Oscar '13 Fashion, Oscar Red Carpet, The 85th Annual Academy Awards