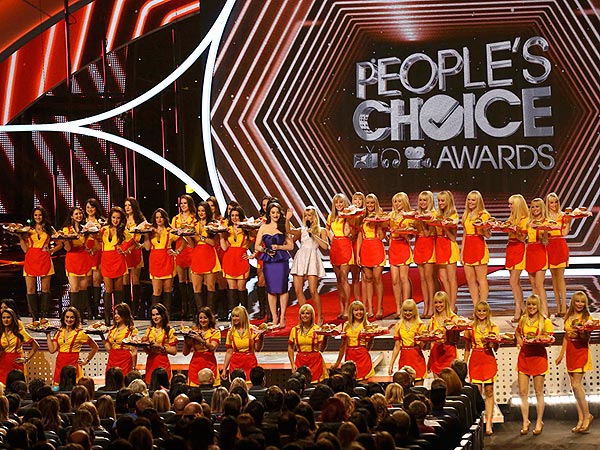 The People's Choice Awards are more known for being the start of awards season, and less for their real value — being the awards given by the people! Nevertheless, it feels like all the stops were pulled out this time around for the 40th anniversary.  With guests like Sandra Bullock and Ellen deGeneres, we knew it would be a good show and the dry humor of 2 Broke Girls stars Beth Behrs and Kat Dennings followed suit. In the fashion category, many stars surprised us including Naya Rivera with her gorgeous blonde locks and minimalist Michael Kors sheath and Anna Faris with her see-through yet elegant Naeem Khan pantsuit.  Here are the fashion winners of the night:
The Best
We're not used to Sandra Bullock being — well, so damn girly! But also so damn stylish! This Peter Pilotto number is colorful and it has that element of leafy nature, plus colors that complement Bullock in all her glory. And those shoes match perfectly, even a little too much so. Nevertheless, the Favorite Movie Actress wins with this sheath from white waistband to Kurt Geiger heels!
In my opinion, Naya Rivera always looks great, but I don't think I've ever seen her look better. Normally, I don't like when the dark-haired girls go blonde and I usually wish they'd go back to their natural color but for some reason, I absolutely love what Rivera has done with her hair. And her matching looks speaks volumes, complementing it perfectly. I do hope she'll go back to black, but for now the blonde is a winner.
It was surprising when Nina Dobrev shared the stage with her former ex and actually joked about the two dating in the past. I mean, yeah, they do have scenes on the Vampire Diaries like…every single day!! But she doesn't always look THIS absolutely gorgeous! I'm sure if she wanted that "I look hot, now do you see what you're missing" revenge on her ex Ian Somerhalder, she absolutely got it. But then  maybe she's the vixen that ended the relationship in the first place. No matter. She looks stunning in her glittery frock and updo.
Allison Williams has been a fashionista since she burst onto the celeb scene, so I'm not at all surprised that she picked such a stylish David Koma number. Looking good, once again!
Jennifer Hudson owns every outfit she wears including this gorgeous Kaufman Franco sheath.
I feel like I'm always seeing Lucy Hale in black so I love when she throws on some big, bright color like this Gabriela Cadena one-shoulder sheath.
Anna Faris is not really known for her great fashion choices, but I'm absolutely loving this glittery Naeem Khan pantsuit. Since I saw my first Naeem Khan fashion show at New York Fashion Week years ago, I've realized that Naeem Khan can't go wrong.  Those pants are just a bit too long, but Anna's makeup and hair are flawless and bring out the best in this ensemble.
I don't really know Sarah Bareilles and I've never heard her Grammy-nominated song Brave, but I do like this eyelet cutout dress with the white collar underneath.  The shoes have got to go (what are those — lips?) but the outfit is standout.
Julianne Margulies couldn't look any more dolled up and classy in this cap sleeve polka-dot black dress with small peplum but Drew Barrymore is glowing and looking absolutely ravishing in Vionnet.
The So-Sos
I'm a big fan of Jason Wu but there's absolutely too much going on in this dress and it's not the best Jessica Alba has ever looked. There's a lot of detail here that you don't see unless you do a closeup but it doesn't make the dress look any better.
Well, this isn't the best I've ever seen Britney Spears look, but I can't say I hate it either. Spears isn't a fashion icon and we all know most of her clothes aren't a hit so I'm giving her an OK on this one. It's like she was trying to recreate that "Oops I Did It Again" nude sparkly bodysuit from the VMAs, in a dress, with a lot more embellishment.
I hate to say this, but it's a little too much for the People's Choice Awards. I always feel like Heidi Klum is trying too hard to make a statement.
I love the sex appeal of Cushine et Ochs. Could never wear it. Malin Akerman certainly can. But there's a little too much showing here, in my opinion, and I do think Akerman could have picked a more appropriate dress.
Classy, elegant, but nothing special Queen Latifah.
The Worst
We all know Kaley Cuoco is on the high of just being married, but that doesn't mean we're not checking out what she's wearing.  That skirt is too frumpy, the shoes are too matchy-matchy and why does she always have bedhead? Well, she is a newlywed…
I'm loving the art-deco appeal of this dress, but I just don't like the off centered black and white on top of the pale pink.  I don't think this is a nice dress or the right dress for Emily Deschanel.
What do you think? And how beautiful are our lovely hosts for the evening?
– Simona Kogan
Photo sources: JustJared and People.com
See the Top Ten Summer 2016 Trends for Women Over 40
Tags: Allison Williams, Anna Faris, Best Dressed at the People's Choice Awards 2014, Beth Behrs, Britney Spears, celebrity style, Drew Barrymore, Emily Deschanel, Heidi Klum, Jennifer Hudson, Jessica Alba, Julianne Margulies, Kaley Cuoco, Kat Dennings, Lucy Hale, Malin Akerman, Naya Rivera, Nina Dobrev, People's Choice Awards 2014, Queen Latifah, red carpet style, Red Carpet Trends, Sandra Bullock, Sarah Bareilles, Worst Dressed at the People's Choice Awards 2014